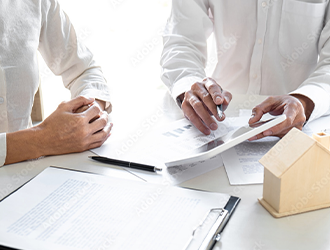 Buying a house may be one of the biggest financial purchases you ever make. When it comes to making big purchases there is a tendency to take a little more time and learn a little more about the process. For example, you will spend a lot more time choosing which car to buy than what brand of peanut butter to purchase.
 
Large financial decisions are complicated and can contain many variables. When you're purchasing a home it's very easy to get fixated on all the finishing touches like countertops and on-suite spas. While you are deciding on which wall, you're going to knock down to make your private bathroom, you should also be looking at the financial side of this big spend.
 
A house purchase can potentially last a long time. Impulsively buying a house today, could be a financial regret for the rest of your life.
 
For example, this could be anything from purchasing a home without an inspection and then being saddled with massive contractor bills for repairs or picking the wrong mortgage product and finding out you could have saved tens of thousands of dollars over the lifetime of the purchase by shopping around.
 
You don't want to have to associate the place you live in every day with a big financial mistake.
 
The Emotional Aspect of Buying a House
Buying a home is a different kind of financial purchase than other large purchases you might make. There are a lot of emotional components to buying your home. It can be very difficult to separate the two and make a strong financial decision instead of a feel-good decision.
 
Everyone wants to get a good deal, but when it comes to houses that seems to go right out the proverbial window. A house can quickly become something you want and what you need doesn't matter.
 
Let's take a quick look at how much space we think we need.
 
The average family home in the 50s-70s was less than 1000 square feet in size. That small home would normally have five to eight people living in it as well. Nowadays, the average family member can have 1000 square feet just to themselves.
 
Obviously, we don't need that much space per person. And now the trend is for people to complain that they haven't seen their kids most of the day because the house is too big.
 
Focusing only on your wants and desires can be a real recipe for financial disaster. If you don't plan your purchase correctly, you could easily end up house-poor. That's where you have a big, beautiful home, but after making your payments, you don't have enough money to enjoy life.
 
Shelling out thousands of dollars for fancy finishes can really come back to bite you when you realize that over the lifetime of a mortgage, you pay back 2-3 times the initial cost. So that $60,000 kitchen cost ends up costing you $120,000 by the time you've paid off your mortgage.
 
If you want to make the best financial decision possible, speak with your financial adviser or mortgage broker. Either way, it really helps to have a list in advance of what your needs are versus your wants. Make sure you make note of any features you absolutely must have. If you have 3 kids and a spouse, no one is going to blame you for wanting more than one bathroom!
 
To help us make these huge financial decisions, we can enlist the help of experts. Each expert has their own field of expertise:
 
A Realtor is your buying agent and can help you find a house that suits your initial checklist.

A home inspector is a professional with contracting experience who can assess if the house you want to purchase is safe and might require massive repairs.

A real estate lawyer is going to make sure your house property title and land surveys are all above board.

A mortgage broker is going to help you negotiate with different lenders to get the financial aspects of the house purchase sorted out.
 
Why Choose a Mortgage Broker?
For most homebuyers, especially buyers who already have a mortgage on their current home, the first place they think of for financing is their current bank. There are other options available, and some can only be accessed through a licensed mortgage broker.
 
Banks are limited in offering only their own rates, and only their own products. Your bank advisor is paid commissions on selling the bank's products. Mortgage brokers work on your behalf and can negotiate with multiple lenders to get you the best product and/or the best rates.
 
A Mortgage Broker Acts in Your Best Interest
Mortgage brokers are regulated and have a fiduciary duty to obtain the best mortgage for you. It's a requirement of their profession and they can lose their license if they don't put their client's needs first.
 
In most cases, the mortgage broker receives their fee from the financial institution that you choose to finance your purchase. Since most lenders offer similar compensation, the mortgage broker has no incentive to push one product or bank over another.
 
In fact, if a mortgage broker recommends a particular financial institution, it's usually because they are easy to work with and offer a robust product that will make you very happy. Mortgage brokers get a large portion of their clients from referrals, and it doesn't make very good business sense to anger their existing clients.
 
A Mortgage Broker Has the Access
 
Your mortgage broker can offer you any product from the entire mortgage market. They are not limited to working with any specific institution, and depending on your needs, they can even access monoline lenders.
 
A monoline lender is a financial institution that only does mortgages. You can't walk in a get a chequing account, they only finance mortgages. Mortgage brokers have access to these lenders.
 
Mortgage brokers often have access to rates below those that are publicly posted in the major banks. Because they act as representatives for a large group of clients, brokers can get special rates.
 
A Mortgage Broker is a Mortgage Expert
A mortgage broker, like those at Mortgage Architects Bennett Capital Group, has a working knowledge of all the different mortgage products available. Not all mortgages are created equal and knowing the difference between a standard mortgage or a collateral mortgage could save you tens of thousands of dollars.
There are so many aspects to consider when it comes to a mortgage:
Prepayment allowances

Portability

Fixed vs. Variable rates

Collateral vs. Standard mortgages

Term length

Amortization schedules

Payment schedules

Primary, secondary, and even tertiary mortgages
Your mortgage broker will be able to sit down and explain all the available options. There are so many different options when it comes to mortgage products that there are people, like the mortgage professionals at Bennett Capital, who specialize in nothing but mortgage products.
It's hard to imagine finding a bank representative who is an expert in all mortgage products, RRSPs, investment portfolios, TFSAs, and more.
A Mortgage Broker Saves You Time and Money
Your broker will do all the work for you by contacting multiple financial lenders to get you the best deal. You won't need to spend endless hours online staring at rates or trying to understand the fine print of different offers.
As we mentioned earlier, brokers get access to loans on a wholesale basis and that usually means a lower rate or better terms for you. A mortgage broker can also refer you to other professionals like property appraisers, home inspectors, or real estate lawyers if needed.
 
In Conclusion
We hope we've made it clear why you might want to work with a mortgage broker over your bank's mortgage specialist. There are a lot of benefits, with very few disadvantages. One of the reasons people like their bank's specialists is because they are familiar with them and their surroundings.
Most mortgage brokers work hard to establish a long-term relationship with you. They want to get to know you and just as importantly, help you over the long term. Once you work with a mortgage broker, there's a very high probability you will keep going back to them for any future home purchases.
If you're looking for an easy way to shop for a mortgage and you want someone to save you time and money. And you also want that person to establish a long-term relationship with you and become a trusted advisor. And you want that person to have a fiduciary responsibility to help you get the best possible deal.
Looks like you're looking for a mortgage broker just like the ones at Mortgage Architects Bennett Capital Group.
 
Call us to get started on your financing today!